North East India Regional Conference on Churches and Disability Inclusion: A Celebration of Resilience and Inclusion
In the heart of Dimapur, Nagaland, a remarkable gathering took place. The North East India Regional Conference of Engage Disability on Churches and Disability Inclusion was a celebration of resilience, hope, and inclusion. Participants shared their stories of overcoming challenges and living their lives to the fullest. They also discussed the challenges that people with disabilities still face in the North East India region, and how churches could work together to create a more inclusive society.
For two days, about 80 participants, including people with disabilities, their families, caregivers, pastors, Church workers, and advocates, their families, came together to share stories, learn from each other, and envision a more inclusive and welcoming church. Both days of the conference started off with a time of worship lead by an inclusive worship team of persons with varied disabilities.
The conference began with a powerful keynote address from Mr. George Abraham, the Chair of Engage Disability. Grounding the theological perspective on disability with biblical narratives and affirmations, he spoke about the importance of churches becoming more inclusive of people with disabilities, and the role that everyone can play in making this happen, including church leadership and persons with disabilities themselves.
One of the most moving parts of the conference was the panel on the "Barriers, Expectations, and Aspirations of people with disabilities." The panellists—Mr. Ngaugongbe, Joint Secretary, NSDF; Miss. Vikenguni Fatima Kera, President, NSDF; Miss. Chumbeni, Sign Language Teacher, Tabitha Enabling School; Miss. Inaholi, Member, NSDF; Miss. Ashe Kiba, and Mr. Thepfükedo, Treasurer, NSDF—all of whom were persons with disabilities, shared their personal stories and offered insights on how churches can become more welcoming and inclusive.
In calm, poignant, strong, humorous, and fearless words they challenged the church leaders, and the churches in NEI to be true to their calling to look for lost sheep, recognise the hidden treasures and gifts in persons with disabilities, and provide the necessary accompaniment to families of children with disabilities. They cautioned that churches and church leaders exclusively advocating for prayers of healing and miracles led many families with disabled children to waste precious time in the pursuit of healing – years that could have been spent on focussing on the growth of the child with guided medical assistance instead, and time that was sometimes taken away from the education of the child.
They affirmed that persons with all disabilities were whole and made in the image of God, and any witness of the churches that claimed they needed 'healing' to be made 'whole,' or that disability was a product of sin, was false prophecy that the churches should refrain from.
They challenged, through their stories, that the 'unintentional discrimination' they faced as youth, and as members of the church ultimately resulted in their exclusion and in some cases invisibilisation, and called on church leaders, lay leaders, and the Christian community to become more sensitive, and aware, and not continue to use ignorance as an excuse for 'unintentional discrimination.' Rev Dr Asir Ebenezer, General Secretary of NCCI sensitively moderated this session to highlight the barriers identified by each panellist, and uplift how they expected the church to address the said barriers.
To provide participating church leaders and young people with a trajectory to embark on the journey of disability inclusion as churches, another panel showcased examples of how disability inclusion in churches could be implemented, by sharing three models of best practices drawn from the Engage Disability network partners around the country: the journey of the Dimapur hub of ED shared by Ms. Ela of Prodigals Home; the journey of Chittoor hub of ED shared by Jessica Richard, and the journey of Mr George Abraham in the Centenary Methodist Church in Delhi.
Ms. Diethono Nakhro, Nagaland State Disability Commissioner, felicitated the conference and spoke on "Churches and Government in Partnership" in the light on Rights of Persons with Disabilities Act 2016, giving pointers for how Churches could step up to bridge the gaps, thus becoming a role-model in NEI for disability inclusion.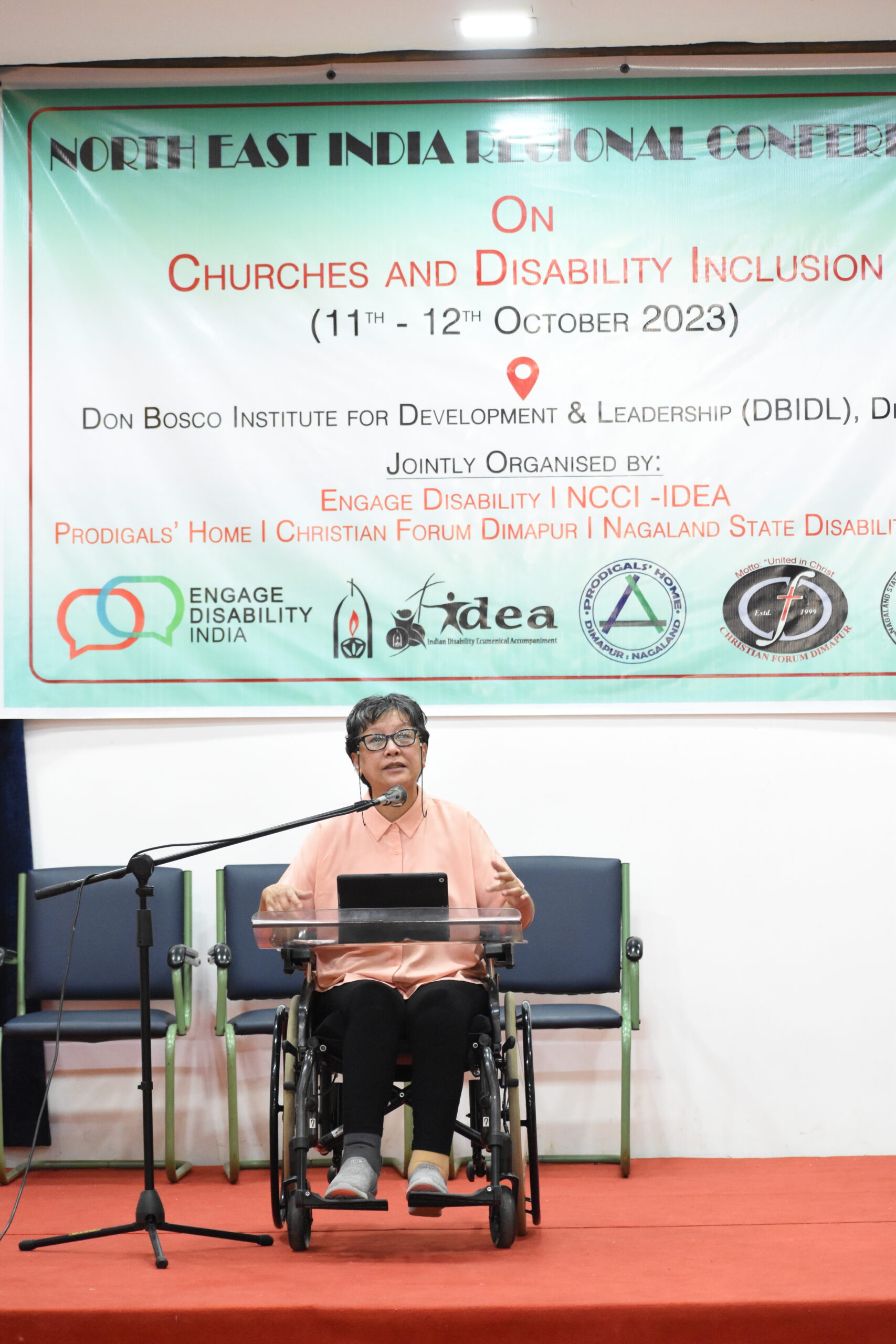 There were sessions on capacity building, where participants were introduced to the resources and tools available to help churches become more inclusive that were available both from Engage Disability and from NCCI -IDEA. Participants also had the opportunity to learn about new technological developments that could make churches more accessible and welcoming to people with disabilities through a presentation by Rev Ribin John, Executive Secretary, Ecumenical Fora – NCCI and Rev Eunice Rajmathi, Training Facilitator, Engage Disability.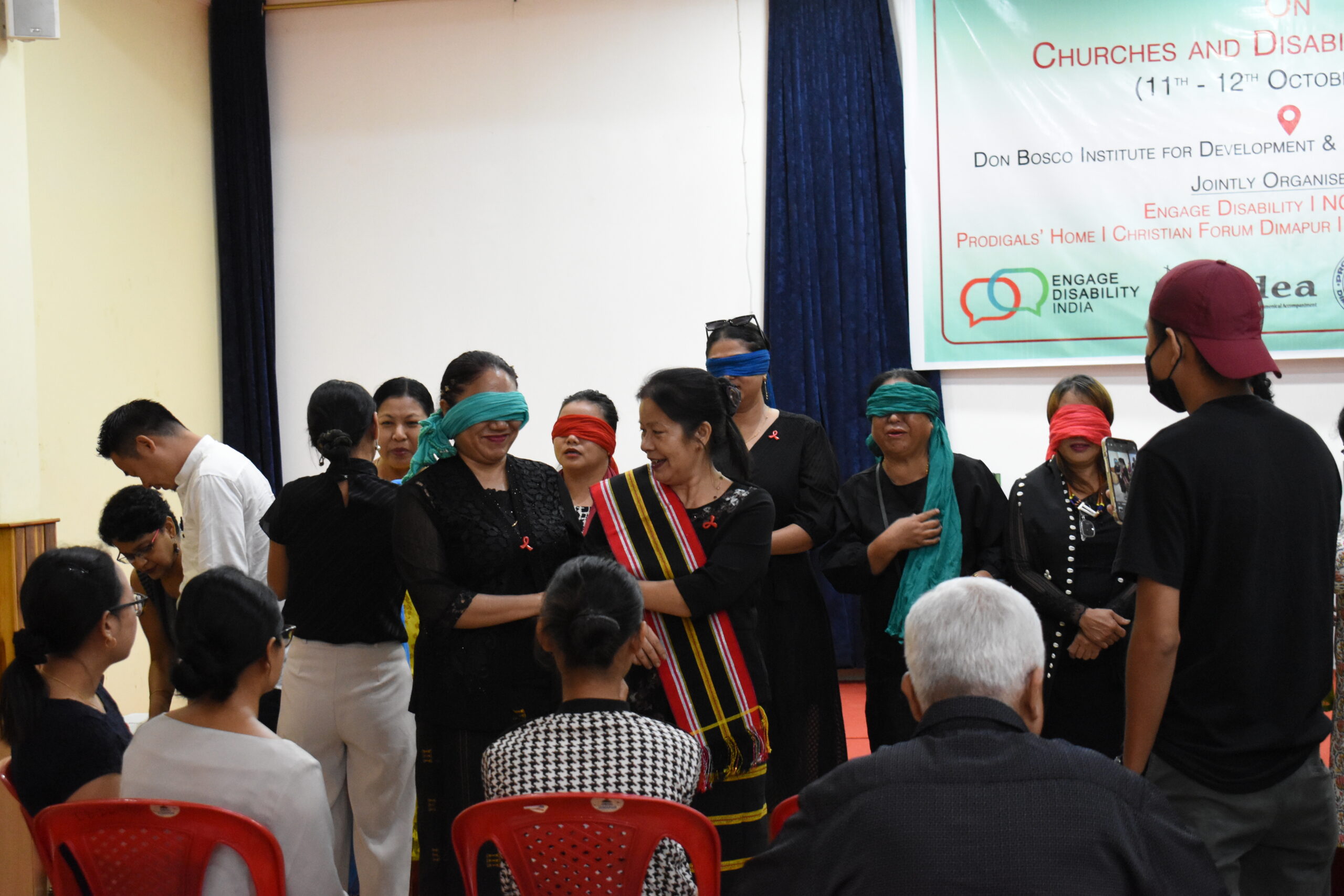 The National Coordinator of Engage Disability, Ms. Jessica Richard, succinctly introduced the history, vision, objectives, and functioning of the Engage Disability Movement at the start of the conference. She highlighted that the purpose of this regional conference was to address the challenge from persons with disabilities in this region calling the churches to go "beyond inclusion to belonging." Representatives of NCCI-IDEA, Prodigals Home Dimapur, Christian Forum Dimapur, and Nagaland State Disability Forum (NSDF)—joint organisers of this conference—also greeted the participants and welcomed them to use the conference to become consientised, to listen, to learn, and to network.
Rev Ribin John, and Ms Ashe Kiba, General Secretary, NSDF, facilitated an activity to encourage participants to familiarise themselves with each other and introduce their partners in three-member groups, highlighting the favourite assistive devices each person in the group used, their unique cultural greeting in their vernacular languages, and their own personal introductions.
Emphasizing on the 'doing' that necessarily follows awareness and understanding, the concluding sessions in the conference called on the gathering of people committed to creating a world where everyone had the opportunity to thrive, regardless of their ability, to discuss together in groups and draw up concrete plans of action for their churches and organisations.
The North East India Regional Conference of Engage Disability was a celebration of resilience and inclusion. The conference concluded with a call to commitment, urging individual participants to read out personal commitments to work towards making churches more inclusive of people with disabilities. It was a powerful reminder that we all have a role to play in creating a more just and equitable society for all.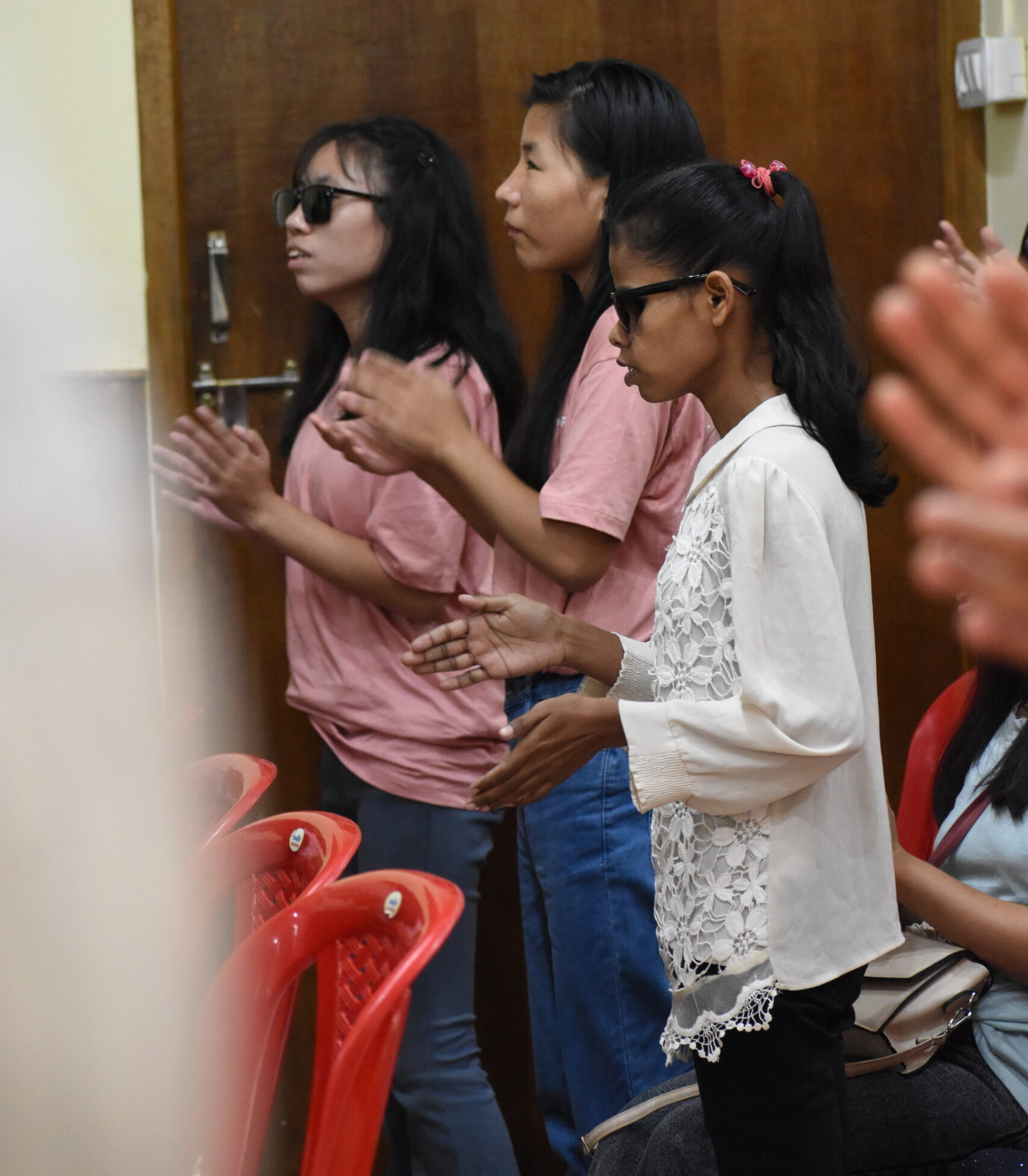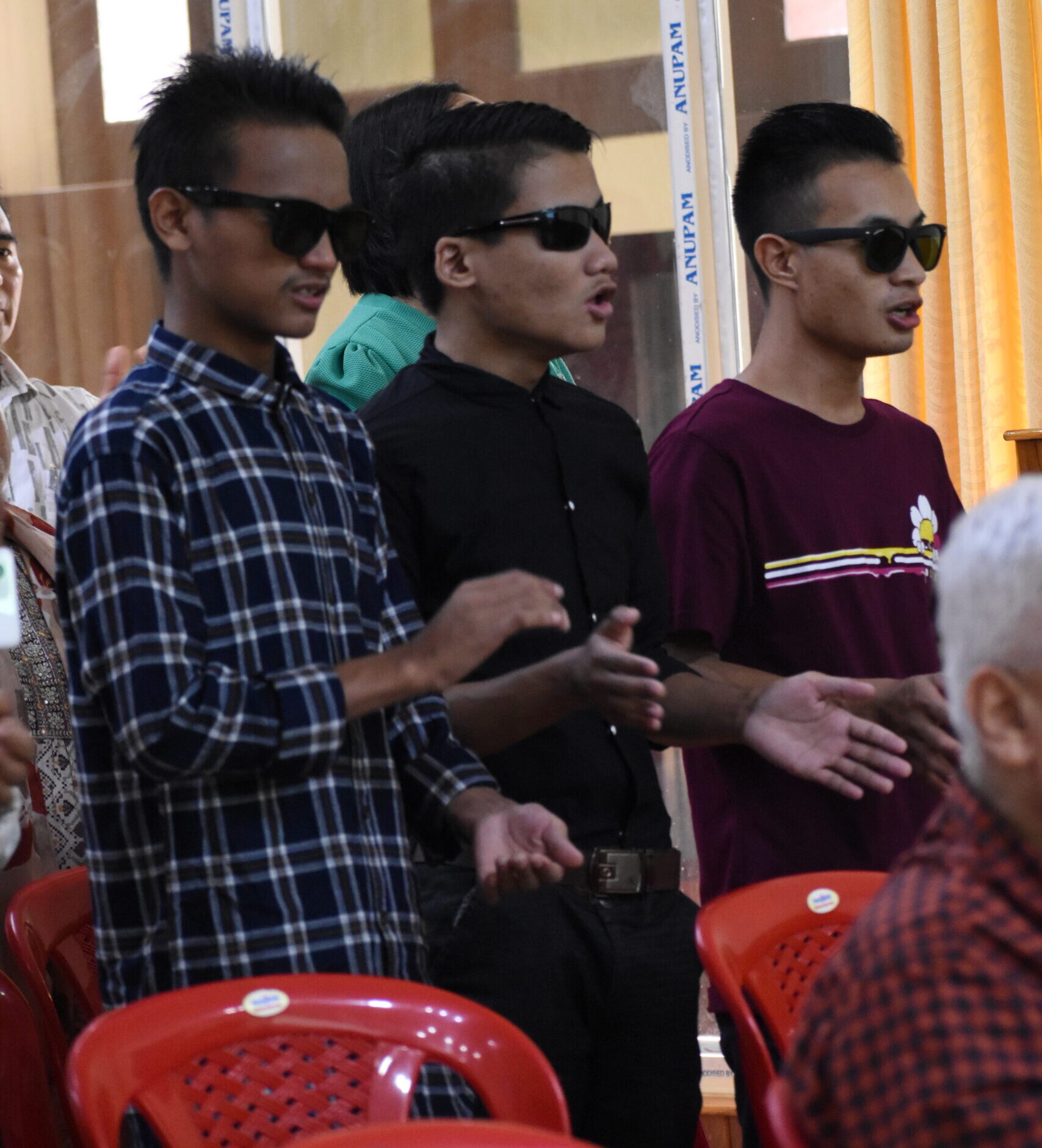 The conference was an inspiring and empowering experience, and Engage Disability is confident that it will lead to positive change in churches across the North East India region. Participants were drawn from Nagaland, Mizoram, Meghalaya, and Assam, and represented Presbyterian Church in India, Baptist Church of Mizoram, NEI Christian Council (NEICC), Council of Baptist Churches in NEI (CBCNEI), Assemblies of God Church, Dimapur, Roman Catholic Sisters from Angel Home, Dimapur, women pastors from Dimapur Baptist Women's Union, Rengma Baptist Church, the Nagamese Church Dimapur and the North East Christian University.
We are indebted to the sign language interpreter, and all our friends with various disabilities who willingly shared of themselves to enrich this conference. We are also thankful to one of the joint-organisers Rev Moses Murry of the Christian Forum Dimapur, who was part of the planning and mobilising of support, and the team at Don Bosco Institute for Development and Leadership, Dimapur,  Fr. Nebu Mathew and Ms. Lucy for the support in organising this conference.