Family Retreat – Bangalore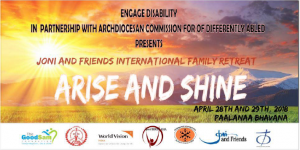 The Engage Disability Bangalore Hub's first Family Retreat was held on 28th and 29th of April 2018 at Paalanaa Bhavana in Bangalore, India. The focus of the family retreat was to provide an opportunity for fun and relaxation in a safe and accessible environment. Families with disabilities are often excluded from the social life in the community as their time and limited resources are focused on health care and education.
Watch a short video of the retreat here: https://www.youtube.com/watch?v=wBu1IamHlCo
The objectives of the retreat
To provide an opportunity for respite and leisure through games, movies and individual care
To help families share their challenges with the disabilities affecting their lives
To share the love of God with the families
To provide a break for the primary caregivers of those with disabilities
To provide churches and the public an opportunity to be involved with those who have been affected with disability
We wanted to show our encouragement and support to families affected by disabilities and hence we chose the theme for this Retreat as "Arise and Shine". 15 families affected by disabilities attended the camp. Separate sessions were planned for people with disabilities, caretakers and children.
Resources: The venue and accommodations were provided by the Archdiocesan Commission for Differently Abled.  Various organizations provided speakers and resource personnel for the retreat. Joni and Friends sponsored the retreat.
Attendance Number of families 62
Number of Children 33
Number of Adults 29
Number of Volunteers 25
Process: Families affected by disability were approached by the members of the Bangalore hub. Volunteers were identified by the hub members and were trained three weeks in advance to orient them on disability and how to relate to those with disabilities. We had 15 Church volunteers, 5 volunteers from the community, 5 staff members who were present full time. Care packets and t-shirts were gifted to each family.
The volunteers would cheer and greet the families who arrived for family retreat. Each volunteer was assigned to one family. The volunteers spent the entire day interacting and taking care of persons with the disability and left them only after escorting them back to their rooms after dinner.
The Core Team met after dinner to debrief and discuss the activities of that day and review events for the next day as well.
Schedule:
Saturday
Breakfast and an introduction.
Lighting of the lamp ceremony was led by Fr. Xavier, Director of Paalanaa Bhavana, Sr. Prabha, Principal of Sophia's Opportunity School and Miss Jubin Varghese, National Coordinator for Engage Disability. The youth of St. Patrick's Church performed songs and a dance.
Ice breaker session was conducted by Mathew Thomas, founder of Jeevan Lakshya.
The afternoon session led by Dr Krupa who spoke on understanding disability and how disability is a gift from God. She encouraged the audience that in Christ every obstacle is destroyed and that every parent and/or caretaker is performing a service unto God. She encouraged the families to recognize the light.
Open discussion: audience was split in three groups; people with disabilities, caretakers and children. Caretakers and people with disabilities were taken into separate rooms for an open discussion. This helped both people with disabilities and caretakers voice their opinion and struggles as they were encouraged to not lose heart (Matthew 5). Through art and games the children were encouraged to follow Jesus in the light and have life (John 8:12). The children were also shown an animated film called 'The Crippled Lamb'.
Games
Dinner and fellowship
It was a humbling experience to listen to the stories of these families. One example was a husband who threw his wife out of the house 15 days after their marriage. The wife was already pregnant and was suffering from depression. Her son was born with ADHD. The son is now 14 years old and is studying in a special school. Currently is being taken care of by his uncle and grandmother. He loves to play basketball and cricket and he also graced us with a singing performance and a small dance during our Talent Show.
Another example was a child who was prescribed the wrong medication (provided by their doctor) which led to a stroke and resulted in losing all sensitivity in her legs. The doctor assured the parents that only physiotherapy was required. This family has gained a new sense of confidence after attending the retreat and they believe that no hope is lost, through Christ.
Schedule:
Sunday
Short Eucharist celebration. The staff, participants and volunteers attended the service together.
Talent show practice
Talent show
Session on the numerous benefits provided by the government. This helped the audience understand what is already provided to them and also gave them further information on how to acquire those benefits.
Lunch
Closing ceremony
During the second day, the participants and some volunteers put on an exciting and fun-filled talent show. Songs, dancing, even a mother dancing while a volunteer was beatboxing; all a part of the entertaining talent show!
We concluded with an impactful ceremony where everyone lit candles as a symbol to remain in Christ by walking and living in the Light of the World.
Immediate impact: The participants of the retreat were touched and encouraged to 'arise and shine', they had a sense of relief that their families weren't alone in dealing with their disabilities and challenges. Many of the participants stated that they are looking forward to the next family retreat!
The volunteers were equally touched by the retreat since most of them were relating to people with disabilities. They all realized that there isn't anything different between themselves and their friends with disabilities. Some volunteers stated that it gave them a sense of encouragement and joy to see people with disabilities play pranks and share jokes and doing a lot of the same things that they do themselves.